What is HTML email?
HTML email is a permission based electronic marketing program for organizations to develop and deploy multiple-channel marketing campaigns to target groups or individuals and track the effect of those campaigns, by customer segment, over time. It is NOT SPAM.
Will the email look like it comes from me?
Yes. It will appear to the recipients as if you sent the email.
Where will the responses be sent?
The responses will be sent to directly to your email account.
Will I get to preview the email before it is sent out?
Yes. You will be sent a preview of the email for you to approve before it is sent out to your recipients.
How will I be able to view my email stats?
You will be provided with a link and a login and password that will allow you to view all of your statistics.
You Have Control – No Monthly or Yearly commitment! Easy Login
Design
Your email campaign can have the look and feel that you want.  You are not forced to use templates or stay below a certain file size. However, customizable templates are available.
Improve Response Rates
The content of each email can be personalized for each recipient.  This is a great way to improve response rates for your campaigns and achieve a one-to-one relationship with each recipient. *You will need to provide the recipient's name along with their email address.
Sent for Optimal Exposure
Campaigns can be scheduled for delivery at different times to ensure that they are delivered at the optimal time.  No matter where your clients are, your campaign will be delivered when you want it to.
No Subscriber Limits
We understand that you may require a number of different lists to store different types of subscribers.  Therefore, there are no limits on the number of lists or the number of subscribers you can setup. Lists can be exported as an Excel file at any time.
We Make It Easy
Subscriber Management
We process all bounces and unsubscribes for you and your clients automatically, you can still see exactly who, when and why they left your list.
Add A Subscribe Form To Your Website
Adding a subscribe form to your website web site is a great way to grow your subscriber lists. People can subscribe or unsubscribe on your website all without you have to manage the updates to your lists.
Custom Data Management
Subscribe forms can also be set up to capture custom data. Your subscriber lists can then be segmented to make your campaign even more targeted. You can even use this custom data that has been gathered to personalize your emails even more.
Get the information you need
Custom Unsubscribe Page
Should your recipients opt to be removed from your list, they can simply click on the unsubscribe link provided within the email. You have the option of a custom created unsubscribe page that sends that person to a web page, on your website, confirming their removal.
Get the Information You Need
Stats at a Glance
Easily gauge the results of the campaign from a single page. Find out how many recipients opened your email, clicked a link, unsubscribed, forwarded your email to a friend and loads more.
Who's Doing What?
See who is checking out your email, how many times they're doing it, and when they did it. Get an overview for the life of the campaign or drill down all the way to minute by minute detail.
Who Is Interested In What?
See the total number of clicks for every link in your email, you can also find out who clicked what link, when they clicked it and how many times.
Pass It On
Include a forward to a friend link in your campaign so you can easily see which subscribers are forwarding your email and how many people they're forwarding to.
Please call 864-414-3598 or email info@askandreceive.net for additional information or to set up a complimentary consultation.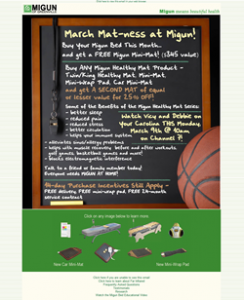 This campaign won 2nd place
at the South Carolina Press Association
2009 Awards Ceremony!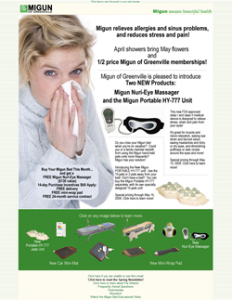 This campaign won 3rd place
at the South Carolina Press Association
2009 Awards Ceremony!